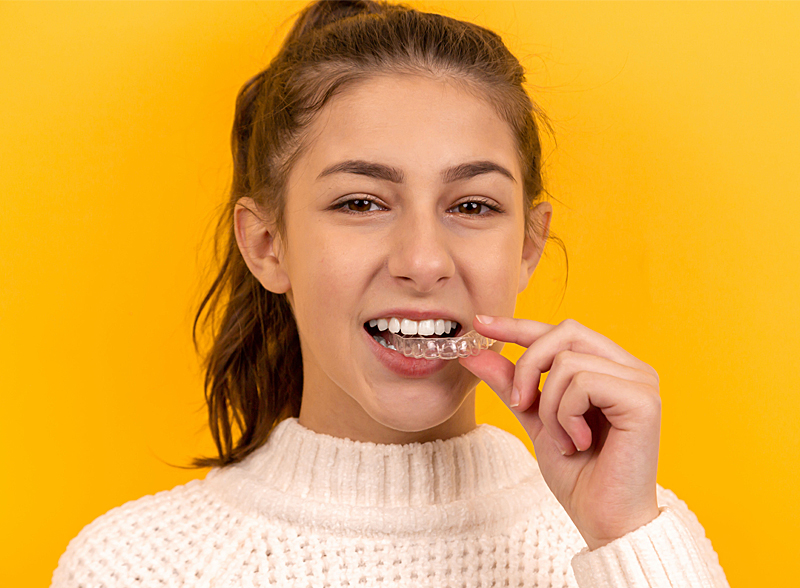 Invisalign is a popular choice for correcting issues with development of teeth and it takes away the discomfort of wearing traditional braces. Most children and Teenagers take well the responsibility for wearing the aligners and comply very well with our recommendations.
These clear aligners are removed before eating and brushing and kids adapt quickly to this routine. They are much more comfortable and convenient than traditional metal braces, not only during their treatment, but also to brush and floss.
It is important to make an appointment with your dentist to see how it works for you. Their age, growth of baby teeth, adult teeth and development of jaws are considered on an individual basis. This will allow us to tailor the right treatment for you.
It is used for crowded teeth, teeth with gaps in between, crooked teeth, cross bite, correcting deep bite, overbite, protruded teeth and open bite. There are many cases where children and Teenagers will benefit from early correction and orthodontic treatment with Invisalign, so it may be beneficial to see your dentist to determine the right time to start Invisalign or clear braces treatment.
The ideal or recommended age for their initial consult to consider teeth straightening with Invisalign is between 7 to 10 years.
Call us or book online for your child's teeth straightening consultation.
Book An Appointment with The Dental Retreat Today !
Contact us today to learn more or arrange an appointment.